Medicus
Medicus is our award-winning journal distributed monthly (10–11 issues a year) to more than 5,000 doctors and decision-makers throughout the State. AMA (WA) members receive a copy of Medicus in the mail every month, and have online access too.
Advertising opportunities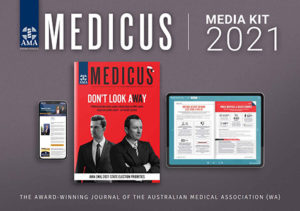 Advertising in Medicus is the best way for your business to reach WA's medical profession. 
To place an advertisement in Medicus, download the Medicus Media Kit 2021.
For more information email Linda.Raich@amawa.com.au.