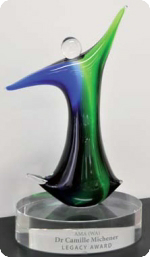 This annual Award has been established by Helen and Norm Michener, with the assistance and support of the AMA (WA), to honour the life and achievements of their beloved daughter, Dr Camille Michener, who tragically died in a car accident on 24 July 2009.
The Award recognises the significant and outstanding contribution of our Doctors in Training to the medical profession and the community in areas such as teaching and education; leadership and advocacy; doctors' wellbeing and community service. These were all activities and values significant to Camille.
The Award establishes a fitting legacy to all that Camille achieved in her short time with us and will ensure that we celebrate the ongoing contributions that our Doctors in Training make amongst their colleagues, the profession and in and for the community.