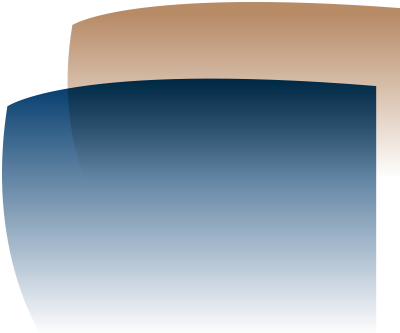 It also illustrates the disconnect that sadly exists. WA Health's current corporate governance structure is so tall that those at the top remain distant from health outcomes on the ground, causing them to lose vital perspective.
This at a time when there is a movement in corporate governance circles to 'flatten' organisations in a bid to generate improved efficiencies and accountability.
I am not a governance expert, but my experience in the public and private sectors and more recently, a degree in corporate governance, combined with poor health outcomes in our State have all confirmed what I have suspected for a long time now – that the corporate governance of WA Health is fundamentally flawed.
I have been advocating for a formal, independent review since I took over the AMA (WA) presidency in June. Our Council passed a motion in July supporting that position, following which I wrote to the Health Minister Roger Cook, formally calling for the review.
Corporate governance (organisational governance may be a more accurate term) is the core structure or framework of rules, relationships, authorities, controls, accountability and methods by which an organisation conducts activity.
Corporate governance 101 tells us the role of a board is to provide skilled-based group intelligence to set the mission, vision, goals and strategy of an organisation, and monitor the outcomes of the organisation's activities.
One of the board's primary roles is to employ, monitor, direct and remunerate the CEO – its one true employee. The directors of the board direct; the CEO manages or runs the organisation.
What about WA Health then?
The Health Minister appoints (and can dismiss) the director general, board chairs and directors of all HSP boards. The Minister, at his discretion, determines if a HSP is to be board-run or just CEO-run with no board. All CEOs are employed by the DG, not their boards.
Furthermore, all policies and strategies of the HSPs have to align with the overarching policy and strategy of the Department of Health – leading to duplication and redundancy.
WA Health is made up of eight HSPs:
Seven with boards – Child and Adolescent Health Service (CAHS), WA Country Health Service (WACHS), North Metropolitan Health Service (NMHS), South Metropolitan Health Service (SMHS), East Metropolitan Health Service (EMHS), PathWest, and Health Support Services (HSS)
One which is CEO-run: The Quadriplegic Centre.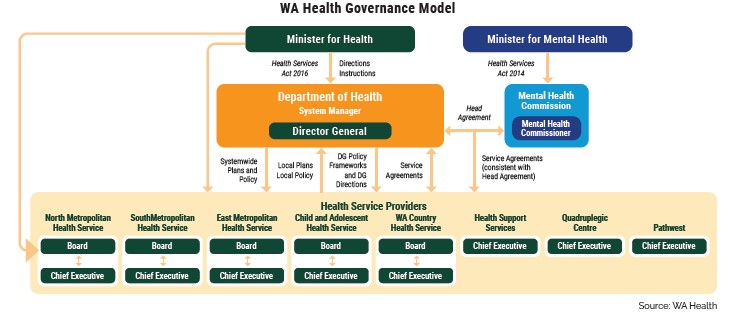 Having eight HSPs is purported to allow local stakeholder engagement and improved use of resources. Yet in reality, these HSPs act as administrative silos, resulting in duplication, inefficiencies, and the potential for postcode medicine.
It is for this very last reason that New Zealand is moving from multiple regional boards to a single overarching health board.
Without doubt, a board spells good corporate governance for WA Health, with skills-based directors bringing broad expertise, along with diversity of opinion and background that have proven to be measurably beneficial.
Such a structure also minimises the impact of rogue individual personalities in the system. For example, the CAHS Review of the morale and engagement of clinical staff at Princess Margaret Hospital (2017) outlined the effects of a rogue personality in the current corporate governance system where the CEO is not directly employed by a board.
The WA Health Budget for 2020/2021 was $9.6 billion. In 2020, Wesfarmers, a larger organisation than WA Health, reported revenue of $30 billion and wages of $4.8 billion – all achieved with one board and one CEO reporting to the board.
WA Health could also embrace a structure which involves a single overarching WA Health Board with skills-based opportunity, diversity, clinical involvement and thereby allow "group intelligence". This would avoid duplication, postcode healthcare and the cost of running seven, and potentially up to eight HSP boards.
It also increases accountability and efficiency and streamlines the structure.
Local engagementand feedback are achieved by each CEO-run HSP, with committees dedicated to clinical governance and stakeholder engagement(incorporating consumer advocacy).
In my letter to the Health Minister calling for an independent corporate governance review, I asked that the review be conducted by an independent panel of experts with an independent chair, as opposed to being managed by an external consultancy firm.
This is to ensure truly independent opinion, with enough numbers to ensure the benefits of diversity and group intelligence.
I also strongly believe that the review should be led by a chair who is independant of WA Health and someone with objective expertise in organisational governance.
Further, the AMA (WA) believes the terms of reference should not be restrictive so as to alter the outcome of a review even before it starts.
My aim in kickstarting this conversation is to reiterate that WA Health's 'business as usual' is not working, and simply maintaining eight HSPs with up to eight boards (with or without direct employment of their CEO) is not an acceptable solution either.
This is ultimately not about who holds the power, or layers of plausible deniability. It is about what is best for our patients and their outcomes within a health system that can deliver efficient, safe and quality healthcare.
So, do we need a formal, independent corporate governance review of WA Health? Yes, Minister!
---